Puppet Maker, Puppeteer, Workshops, Films
Raven Kaliana is a puppet maker, puppeteer, workshop leader, visiting lecturer, conference presenter, and animator. She directs Puppet (R)Evolution Theatre Company, producing plays and films on social issues. She's presented Hooray for Hollywood, her award-winning puppet-based film on human trafficking, at UN Geneva, NY Commission on the Status of Women, London City Hall, and Oxford. She's used the film teaching students at Roehampton; Kingston; Royal Central School of Speech & Drama; New York University. Love vs Trauma, her puppet play on resilience, toured to China, Puerto Rico, Greece; as well as London, Birmingham, and Brighton, UK. Her work has been chronicled by BBC News, Changemakers Magazine, New York Times, The Guardian, Puppetry International, The Puppetry Journal, Eyestorm TV, Medium. Documentary interviews include No Strings Attached and Stories of Healing. Artist residencies were awarded by Puppet Centre Trust, Artists Access to Art Colleges, and Little Angel Theatre.
Wow, what absolutely beautiful puppets, you really are a genius!! Thank you so much for them...they really are great!! ...We're so so pleased with them
Harriet Hardie
Full House Theatre Company
I can't thank you enough for coming to speak to us this evening and for showing us your film. I believe it to be one of the most powerful pieces of art I have ever seen, and I will continue to reflect on its subtleties for quite some time.
OxPolicy
Oxford University
I came [to your Love vs Trauma performance] in Islington last night with another teacher. I just wanted to say how much I enjoyed the evening and the show. I hope that we can have you again at our school next academic year as I think it is such an amazing and insightful experience for my students.
Emma Leenders
Dormers Wells High School
I just wanted to say thank you so much for coming to our team on Wednesday. There has been some powerful responses from people which I'd like to share with you. One worker said that it was the most powerful training event she'd attended in her whole career – and she's been in practice forever!
Anna Glinski
East Sussex Safeguarding with Intensive Family Treatment
You made me a beautiful child hand puppet...I am using [it] to help people to gain some understanding and awareness of Autism. It has been well received and people afterwards feel they can talk to me about a member of their family or someone they know. Thank you so much...you are very talented... [It's] the most moving puppet I have ever seen.
Christine Pearson
Storyteller
Behemoth delighted and terrified the audience in equal measure and I received many positive comments about the puppet itself. I hope to work with you again in the future and will certainly highly recommend your work to others.
Dominic Yeates
Tring Park School for the Performing Arts
I just watched 'Hooray for Hollywood'. What an incredibly intricate piece of work. I cannot express in words how powerful it was.
Sulochana Dissanayake
Power of Play
Watched the film. It is hard to disconnect my opinion as an artistic director from the feeling I had as a human being. I was thinking about the strengths one needs to have in order to step aside from the personal story and transform it into an artistic medium. There is no doubt that this film needs to be shown again and again and again. I can only salute you.
Ilan Savir
Israel Puppet Centre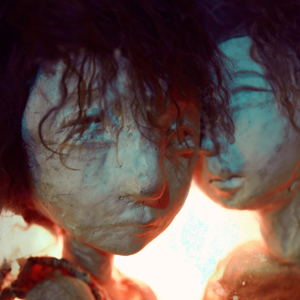 To enquire about commissioning puppets for your production; puppetry coaching for performers; puppetry performance in your show; teaching puppet-making or shadow puppet workshops; shadow puppet animations for films, television commercials, or music videos; presentations of the Hooray for Hollywood film; or booking performances of Love vs Trauma with associated workshop.
Please email Raven Kaliana at puppets@ravenkaliana.com or fill in the following contact form: