Puppets can do what actors cannot. They can fly or swim through the air, or transform, or express a metaphor or deeper meaning. Puppets can represent animal or fantasy characters, child characters, or physically exaggerated ones. Puppets allow for more characters than performers within a show – ideal for online or solo performances. There are many different kinds of puppets, including Tabletop, Shadow, Marionette, Rod, Hand, and Masks. Raven Kaliana is also skilled at creating Portrait Puppets. Choosing a puppet for a production starts with its purpose… What does it mean, and what does the puppet need to do, and express?
Tabletop puppets, also called Bunraku-Style puppets, are built with articulation in the major joints, and move similarly to real humans.  There is generally a handle at the back of the head, and sometimes short rods at the elbows and ankles.  Their expressiveness and subtlety comes from puppeteer's direct contact with the puppet – they can look quite 'alive.'  They are usually operated at tabletop level for better audience visibility and ease of operation, though with larger puppets, it is possible to work them from the floor level as well.  Generally the puppeteers are visible, but they can be hidden with lighting techniques. Ideally, three puppeteers would operate one puppet, though depending on the movement required, one or two puppeteers could operate the puppet.
Videos Featuring Tabletop Puppets by Raven Kaliana:
Videos featuring Shadow Puppetry by Raven Kaliana:
Shadow puppetry is a colourful medium using cut paper and acetate to inexpensively create characters and scenic elements. Shadow puppetry works great for theatre productions, music videos, documentaries, and other film applications. It is also ideal for live touring productions, as the puppets can be small and fold down flat. It looks surprisingly magical, and performers can interact with the shadow characters or inhabit a scene created with shadows.
Marionettes are worked with one or more puppeteers, using strings suspended from a control mechanism. Beautiful on film, the camera illuminates details, and the puppeteers can be easily positioned out of frame. For theatre, short string marionettes are used when puppeteers are meant to be seen by the audience… To conceal the marionettists in a theatre production, long string marionettes are used, worked from an overhead scaffolding structure built over the stage. Marionette movement looks stylised and can work well with fantasy characters or floating/flying puppets.
Videos Featuring Marionettes by Raven Kaliana:
Rod puppets are worked with one puppeteer at tabletop height or can be free-floating, if the puppeteers are visible…If the puppeteers are hidden, the puppets are held overhead inside a puppet stage. Human characters will have an internal mechanism which turns and nods the head, with arms worked with external rods. A skirt or tunic hangs down, giving the illusion of legs, but without the weight or structure. Rod puppets are light and easy to operate, and can be an affordable alternative to more complicated puppets.
Hand puppets generally require only one puppeteer and are used in many children's television shows and commercials. Hand puppets can pick up and carry props (i.e., Punch & Judy), so they can be quite interactive and comical. The direct contact of the puppeteer with the puppet makes them seem quite alive and compelling, despite their simple design. Most live hand puppet productions use a puppet stage to hide the puppeteers.  They can also  be operated in full view of the audience, if the puppet is carried over the arm of the puppeteer to hide the 'cuff.' Inside a puppet booth, tne puppeteer can work two hand puppets at the same time, so they can work well for one-person shows and touring productions.
Masks and mascot heads can transform the appearance of a performer. Masks can help one performer establish themselves believably as a number of separate characters to the audience. Over-the-head masks can be larger than life and create a surreal character. Mascot heads are eye-catching and work well for advertising, as people passing by will come chat and take photos.
These can be made in any puppet style. Having a likeness of a actor/puppeteer in a puppet form can create a tableau within the show where the character can enter a fantasy context, or interact with other puppet characters. It can also represent the same character as the actor/puppeteer from the past or future – showing reminiscence or dreams. A portrait puppet can also make a thoughtful gift for a loved one who enjoys puppetry!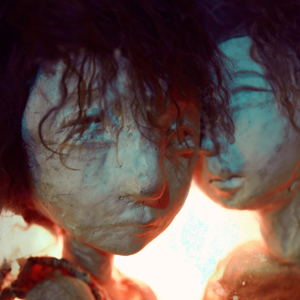 To enquire about commissioning puppets for your production; puppetry coaching for performers; puppetry performance in your show; teaching puppet-making or shadow puppet workshops; shadow puppet animations for films, television commercials, or music videos; presentations of the Hooray for Hollywood film; or booking performances of Love vs Trauma with associated workshop.
Please email Raven Kaliana at puppets@ravenkaliana.com or fill in the following contact form: