Raven Kaliana is available to perform puppetry within your show, as well as offer puppetry coaching for actors, or 'outside eye' consultation for a production. Love vs Trauma (45 minutes) and Maid of Strong Stuff (30 minutes) are currently touring live shows, and are available to be booked by your organisation, festival, or theatre. Please note both shows are also available in film format, for live or online presentations.
Raven Kaliana – Performance Credits
https://www.mandy.com/uk/theatre-professional/raven-kaliana
Raven Kaliana – Puppetry Showreel
https://vimeo.com/212206653
Puppet (R)Evolution presents Love vs Trauma, a play combining colourful shadow theatre,a tender flying hand puppet, and miniature rod puppets in a poetic yet powerful tale for adults and teens. Innovative puppetry techniques combine with evocative music to investigate the impact of trauma on behaviour and perceptions of choice. A lost soul navigates the vivid landscape of memory. Her human self struggles to build a safe refuge for her soul's return. This story of survival shows a heroine's journey from a traumatic beginning to a better life, through a leap into the unknown, followed by the realistic challenges of navigating friendship, community, and self-care. Performance follows with an audience discussion on the personal and societal effects of trauma, along with encouragement to envision a more compassionate and sustainable world community together.
...flying slowly under the sound of music and lighting, [the puppet] touches the soul of each audience member deeply.
2016 premiere at Little Angel Theatre, UK
2017 Royal Central School of Speech and Drama, UK
2017 Punched Puppet Showcase in Brighton, UK
2018 Beijing International Puppet Festival, China
2019 Titeretada International Puppet Festival, Puerto Rico
2019 Brighton Fringe Festival, UK
2019 Broken Puppet Symposium, Birmingham, UK
2019 Play, Perform, Learn, Grow conference, Thessaloniki, Greece
2021 AOH: 'The Beating Heart of the Windmill,' Brighton, UK
Please contact us to view video of full performance, additional details, and/or high-resolution photos to aid in your decision making. A film of the show is also available for online presentations.
Luna Theatre presents the 'Below Stairs' world of Edwardian kitchen maid (and popular author) Margaret Powell; illuminated through original folk songs by Charlotte Oliver, with tabletop and shadow puppetry by Raven Kaliana. In 1968, Margaret transcended a life of poverty and servitude to become a bestselling author and television personality. She inspired many through her humour, resilience, and courage to seize her waylaid dreams. Engaging for adults and children alike.
It's never too late to make a start…
The evening is steeped in a bygone era... thought-provoking and celebratory too.
Please contact us to view video of full performance and/or high-resolution photos to aid in your decision making.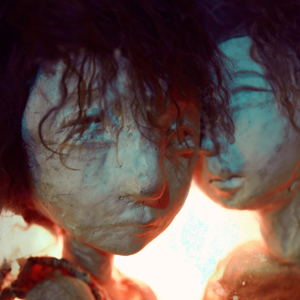 To enquire about commissioning puppets for your production; puppetry coaching for performers; puppetry performance in your show; teaching puppet-making or shadow puppet workshops; shadow puppet animations for films, television commercials, or music videos; presentations of the Hooray for Hollywood film; or booking performances of Love vs Trauma with associated workshop.
Please email Raven Kaliana at puppets@ravenkaliana.com or fill in the following contact form: